What is the MiFinity eVoucher?
MiFinity eVouchers are the perfect solution to top up your MiFinity eWallet account without the use of bank, credit or debit cards. The MiFinity eVoucher is safe and highly secure without the need to risk giving out your card or bank details. As our eVouchers are fixed denominations you are in control of the amount you purchase either for yourself or for family and friends. Click here to open a MiFinity eWallet account for free.
How to get your MiFinity eVoucher instantly
With over 80 payment methods available through our MiFinity eVoucher resellers Dundle , there are even more ways you can buy a MiFinity eVoucher! On the Dundle website simply choose your MiFinity eVoucher amount and which currency you would like to purchase, complete the payment online and your MiFinity eVoucher CODE will be available in your Dundle account. Details of how to redeem the code within the MiFinity eWallet account will be emailed to you separately too.
If you have any questions the dedicated Dundle.com customer services team will be on hand to help you at any time. Simply click on the Customer Services link and select the best option to contact Dundle.
A full list of MiFinity eVoucher resellers can be found here.
How can you use the MiFinity eVoucher
Similar to other products like Neosurf and Paysafecard, when you receive the 20-digit PIN CODE, just open your MiFinity eWallet account, select deposit, and scroll to find the eVoucher logo, select this and add the exact denomination and currency you purchased the eVoucher for. You will also have the option of converting the eVoucher into one of the 11 available native local currencies within the your MiFinity eWallet, or alternatively select a like for like currency to the eVoucher purchased. You will then be taken to a screen where you enter the 20-digit PIN and within seconds your MiFinity account will be credited with the eVoucher amount minus your fees. You will then be able to spend your balance with all merchants that accept MiFinity!
Do I have to redeem the whole eVoucher amount in the MiFinity eWallet account?
Yes, your MiFinity eVoucher can only be used once in full. You must always select the full amount of the eVoucher and the right currency you have purchased in.
How long will my MiFinity eVoucher be valid?
From the date of purchase, the MiFinity eVoucher will be valid for 12 months.
Which countries can I use the MiFinity eVoucher?
The MiFinity eVoucher can be purchased in all countries except for United States of America and a few other non-serviced countries.
What currencies can the eVoucher be purchased in?
The MiFinity eVoucher can be bought in a wide variety of currencies. The below table shows the currency and denominations currently available and fees:
Currency
Currency denominations
Fees
AUD
Australian Dollar
25
50
100
150
200
400
4%
CAD
Canadian Dollar
25
50
100
150
250
4%
CHF
Swiss Frank
25
50
100
150
250
4%
EUR
Euro
10
25
50
100
200
4%
GBP
British Pound
20
50
100
150
4%
JPY
Japanese Yen
2,500
6,000
12,000
24,000
5%
NOK
Norwegian Krone
250
500
1,000
2,000
5%
PLN
Polish Zloty
50
100
250
400
5%
RUB
Russian Ruble
1,000
2,500
10,000
15,000
5%
USD
United States Dollar
10
25
50
100
200
4%
ZAR
South African Rand
200
500
900
1,750
2,500
3,500
5%
CNY
Chinese Yuan
100
200
500
800
1,500
5%
CZK
Czech Koruna
250
500
1,250
2,500
5%
DKK
Danish Krone
100
350
750
5%
INR
Indian Rupee
1,000
2,500
5,000
8,500
17,000
5%
SEK
Swedish Krona
100
250
500
1,000
1,500
5%
With many more soon to be released too.
Can I keep a balance on my MiFinity eVoucher?
No, the full eVoucher value must always be used when redeeming this in the MiFinity eWallet. Also, remember that it will be valid for 12 months before it expires.
Can I give the MiFinity eVoucher as a gift to family and friends?
Yes, the MiFinity eVoucher makes for the perfect gift for friends and family who love to spend online. Please ensure however that the PIN can only be used once so please take care to keep this secure.
Where can I use the MiFinity eVoucher?
Once you have redeemed your MiFinity eVoucher in your MiFinity eWallet account you will have access to thousands of online merchants. Here is a selection of a few.
The MiFinity eVoucher T&C's can be found here.
The MiFinity eVoucher is now available to be redeemed directly on your favourite merchant cashier through the MiFinity iFrame. To deposit within the iFrame using the MiFinity eVoucher please follow the below simple steps:
Step 1:
Within the MiFinity iFrame select the MiFinity eVoucher as your deposit option.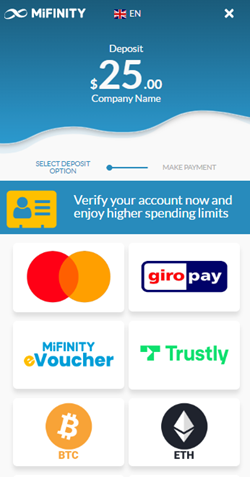 Step 2:
Click the 'Make Payment' button.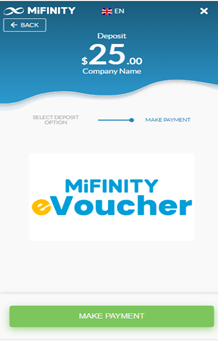 Step 3:
You will be redirected to the MiFinity eVoucher screen.
Enter your 20 digit MiFinity eVoucher PIN here that you received when you purchased your MiFinity eVoucher from your preferred online reseller.
You will also need to accept the terms and conditions and select 'Pay'.
Note: If you do not have an eVoucher, you can easily head to one of our resellers to purchase one. For example Dundle, OffGamers, ReloadHero or Kinguin

Step 4:
A payment confirmation screen will appear, and your funds will now be available within your merchant's cashier.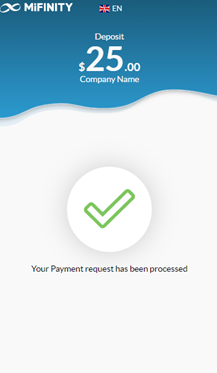 PLEASE NOTE:
(1) You must deposit to the merchant cashier using one of our MiFinity eVoucher available denominations. If you have entered an amount that does not match one of our available denominations, you will be given the opportunity to view the supported denominations available to deposit, as seen below, or select 'Back' to choose an alternative deposit method.
If you decide you wish to deposit using a supported denomination displayed you can close the window, return to the merchant cashier & begin again the deposit process by entering the correct supported and available denomination.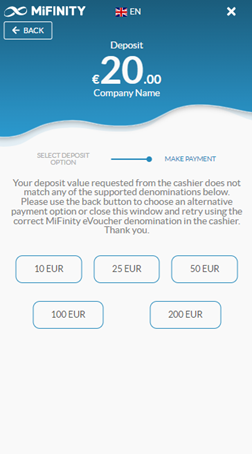 (2) If you try to deposit into the merchant cashier using a MiFinity eVoucher which does not match any of the available currencies you will be able to check the drop down menu for alternative currencies available.
Then you can either click on the Back button and choose an alternative payment option or close the window in the below screen and retry in the merchant cashier using the correct MiFinity eVoucher denomination and currency in the cashier.